See on Scoop.it – Cultural evolution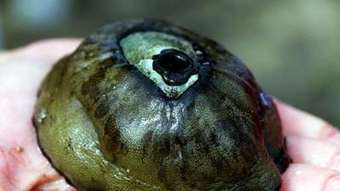 Ancient shellfish suggest modern humans evolved 50000 years ago Los Angeles Times The development of art, culture, and advanced cognitive ability that define modern humans may not have evolved until 50,000 years ago, according to a new study…
Tom Uytterhoeven's insight:
The quote that struck me the most is: "Whether these things are art or jewelry really is in the eye of the beholder."
Now this could be said by the average visitor of an exhibition of (post)modern art 😉 Which actually raises deeper questions: How to define culture? How to decide what is and what is not an expression of culture, loaded with symbolic meaning? (See what I did there: brought in a piece of my own definition – which calls for further definitions, I know…) How to decide what is art and what is junk, independent of the 'eye of he beholder'? Can we bridge the gap between ourselves and our ancestors/ancestral species?
Basically it's the same old question popping up again: "What does it mean to be human?" That's what exites me about scientific research like this: it offers us a glimpse of (what could be) an early stage in the long, on-going process of human becoming (borrowed that expression from Philip Hefner)…
See on www.latimes.com